Provide information reps need at their fingertips.
DBOX CRM made for manufacturers is a web-based, sales automation tools give your sales team support in the field, providing on-the-fly access to the current, accurate data they need to do business. The difference between DBOX CRM and all others is we are connected to your back-office system. You can see production status, sales orders, invoice and shipping information. See if you can do that with other CRM's.
Give your sales team the information and functionality they need to sell more.
With DBOX you can:
Quickly write orders and spend more quality time with customers.
Make better recommendations with order history and customer reports
Check inventory, review account information and much more directly
Beautifully present your brand and products
Log visit notes to surface new strategies for your accounts
Responsive design means reps can access on any device (laptop, tablet & mobile)
24/7 access to key tools they need to do their job
Intuitive interface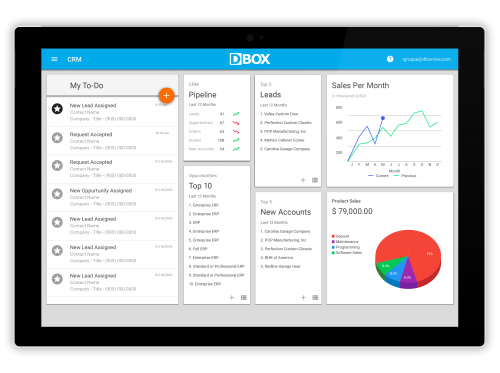 On average only 36% of a reps time is spent selling
DBOX allows your Reps to stay focused on interacting with their prospects instead of doing busywork