Maximize B2B Sales and Customer Satisfaction.
Today's business-to-business (B2B) organizations are looking with renewed urgency for ways to improve efficiency, reduce costs, and retain existing customers.
Amazon.com sets the standard for providing an exceptional e-commerce experience and today's online shopper expects an Amazon-like experience whether they are shopping for business or pleasure. Provide the same experience with the DBOX B2B ecommerce ordering portal.
DBOX will:
Receive orders online & communicate effectively with your customers
Open new sales channels and continuously reach new market segments
Pricelist management
Get notified about orders statuses
Ask questions about an order, no more back and forth with emails and phone
Receive orders 24/7 from anywhere in the world
Present up-to-date order status & history
Your future buyers not only prefer to shop online but will demand it.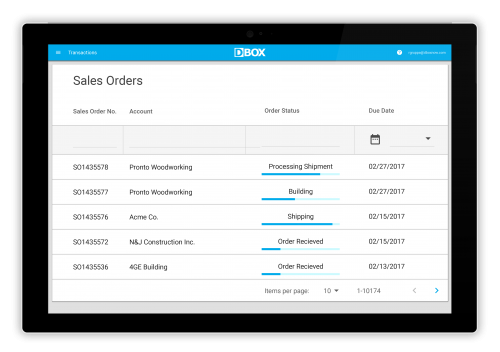 40% of B2B buyers identified back-end integration with financing, accounting, order management systems (OMS), or enterprise resource planning (ERP) systems as a key feature for suppliers to offer.
DBOX provides a way for your customers to purchase your products online, but also provides a host of other benefits to your organization. Imagine your customers, dealers, or distributors seeing both their online and offline orders in one place, managing their orders, budgets, seeing their pricing and available promotions through an online experience.